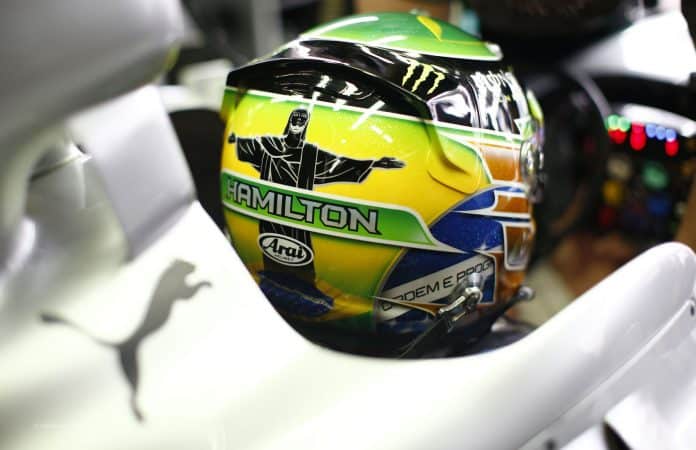 What a fortnight it's been for Lewis Hamilton and in this weeks Brazil F1 betting tips 2017 we review the events that lead Britain's most successful F1 champion to his fourth title and look forward at the prospect of whether he can break all records in the future.
Lewis Hamilton left Mexico City the 2017 world drivers champion and given his recent performances in the second-half of the season it's well deserved. It was a remarkable achievement for the British driver, as it looked at one point in that race that he may not even cross the line.
Nightmare start for Hamilton
The first corner off the grid saw young Max Verstappen take the lead from Sebastian Vettel but in doing so both drivers touched. This looked like a good opportunity for Lewis to take advantage but it was not a good move as it turned out. The Brit passed Vettel on the outside and it looked like it would stick, but Sebastian accidentally caught the rear tyre of Hamilton causing a puncture which saw him at the back of the field after a quick tyre change.
It left Hamilton struggling to catch the pack and only reached the last ten about lap 65, finally finished in ninth. Vettel fared a bit better to work his way through to fourth, but not enough to stop Lewis being crowned WDC for the fourth time.
Verstappen dominated up-front
The race winner Max Verstappen was in a race of his own. The Dutchman not only led the race from start to finish but did it in style and passed the chequered flag some 20 seconds ahead of the next best driver (Valtteri Bottas) and almost a minute ahead of Kimi Raikkonen.
We have been saying for a while Max will take the title soon and this races shows he has the right stuff. We think if Hamilton and Vettel had not collided Max would still have won. It was a pity that Hamilton was getting all the praise at the end of the race taking a bit of the shine off Verstappen's triumph, but there will be plenty more days of praise for this young driver.
Not everyone at Red Bull was smiling
There was a few non finishers with the main one being Verstappen's team mate Daniel Ricciardo. The Aussie only managed lap 5 which was a disappointment for him but he has had the best part of the luck during the start of this season and the tides appear to be turning on him. Daniel suffered a turbo failure, Marcus Ericsson lap 55 and Brendon Hartley lap 30 with engine trouble, and Nico Hulkenberg with power unit failure lap 24.
One good result was Fernando Alonso he finished the race 10th a great result for a driver who has rarely seen the end of a race in 2017.
The next race is in Brazil on 10 – 12th of November, with the constructors and championship titles complete it is just team points the drivers will be looking for. It can mean a lot of money to the teams, especially the smaller ones. So as far as winners go we here at Betotg think any of the top drivers will take this race, but it's always worth that big money outside bet.
Max is currently on fire and certainly has the momentum, but in Brazil both Ferrari and Red Bull may suffer as this is a track that favours Mercedes raw speed over aero packages.
Brazil F1 Betting Tips 2017 BetOTG Predictor
1. Lewis Hamilton
2. Valtteri Bottas
3. Max Verstappen
In 2018 we have a new and young British driver joining the paddock. At only 17 years of age British driver Lando Norris is joining McLaren, he comes from Glastonbury Somerset and will be reserve driver taking the place of Jenson Button.
He has come through the usual F1 steps (world-karting champion and Formula three champion). The Brit will be driving in formula two as well as his place as McLaren reserve, good things are being said about him but only time will tell.