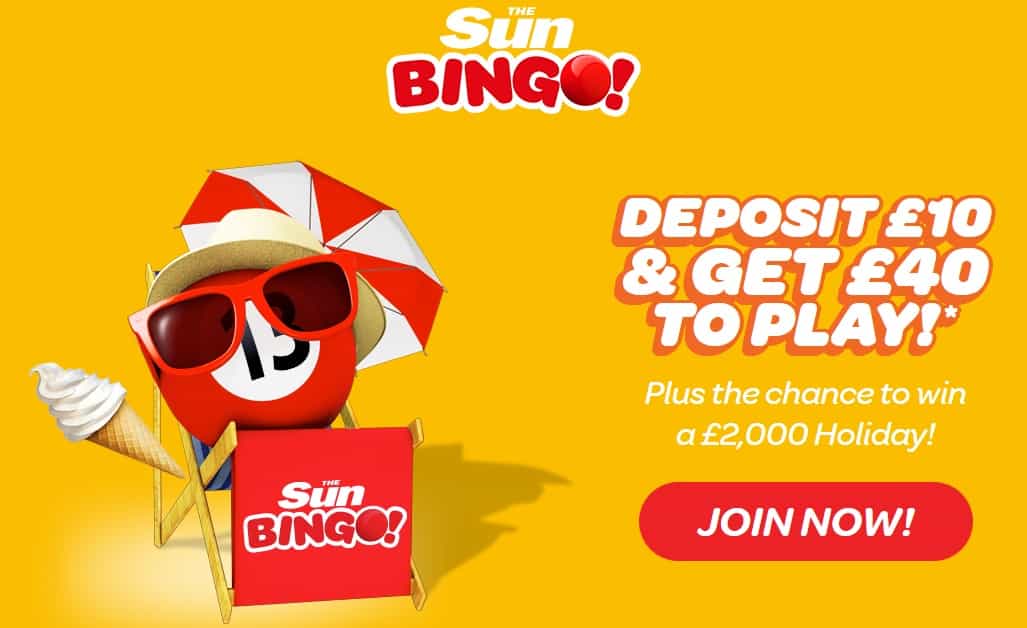 It seems that everyone is getting on the online bingo band-wagon these days and BetOTG has found the latest to join the party, which is the UK biggest and brightest daily newspaper The Sun.
Sun Bingo is a bright and feature rich website using their traditional bold red to frame the content and with the same cheeky character as their newspaper, it has been awarded "Best Online Chat Team" and "Best Online TV Advert" by Which Bingo, as with most Sun Bingo have some exciting introductory offers and promotions.
Summary of Sun Bingo promotions;
Get £40 FREE in your account when you deposit £10
Plus a chance to win a £2,000 holiday when you make your first deposit
Get your chance to get hold of a huge meat hamper on Foody Thursday

Refer-a-Friend and receive £20*

Ton of competitions such as Academy Awards Predictor where you can win an entertainment package

Sun Bingo have gone crazy with so many enticing offers for new customers as well as existing such as;
Mobile Mad Weekends: Start using your mobile phone each weekend with Sun Bingo and they'll give you 10% Cash Back between weekend of 21st and 28th February.
Breakfast Club Rewards: You can earn Love2shop vouchers by the new Breakfast Club.
Refer a Friend: They believe life's more fun with friends which is why they will give you £20 FREE if you refer one of your friends.
Free Bingo: Who doesn't like a free bingo game every Tuesday and Thursday and if you join Sun Bingo between 7am-10pm you can win up to £10 for 1-line, £15 for 2-line and £50 for a Full House.
Free Bingo Learner Room: If you haven't played Bingo before it can be abit daunting which is why Sun Bingo have created the Learer Room where new members can learn to play Bingo for free from 11am-1pm and 6pm-8pm for the first 7-days from your signup and chat to friends while playing in their chatrooms.
The World is Your Oyster: Between 28th Jan and 4th March be in a chance to win an amazing £2,000 holiday fund!
Get your Hand on a Meat Hamper: Every Thursday throughout February be in a chance to win a fantastic meat hamper, to be in for a chance all you need to do is play a min of £10 on Bingo, £30 on Slots or Slot Mini games or £30 on Casino or Instant Win.
Our Verdict
The Sun in an institution in the UK for cheeky articles and plenty of banter. That can't really be said for Sun Bingo which is a pretty generic bingo site with The Sun brand name attached to it and very little character.
There are far better bingo sites out there with more interaction and enjoyment than this one.