Pokerstars has one of the best poker platforms on the planet.
But if you're a crypto gambler wanting a seat at the table, you can't deposit directly via Bitcoin.
That is until now…
Without knowing it, Pokerstars has inadvertently opened its doors to Bitcoin holders.
So how have they done this?
Well by adopting a new payment service Neteller, Pokerstars accepts Bitcoin and all other major crypto currencies indirectly.
In this article we'll show you how to do this with a simple quick start guide as well as step-by-step screenshots.
Plus we'll highlight some of the key terms, as there are a few gotchas you need to be aware of before making a deposit.
Not much Choice for Bitcoin Gamblers
It's not just crypto poker players that get a raw deal…
While researching this article I found that NONE of the top 20 online bookmakers allowed punters to directly deposit via Bitcoin.
Any gambling sites that do accept Bitcoin directly tend to be relatively new, so I'm hesitant to use them as they have near zero reputation in the industry…
Or worst case they could go bust overnight!
Pokerstars also accepts Litecoin, Etherium & XRP
And it's not just Bitcoin that Pokerstars now accepts.
In fact Pokerstars now accepts seven of the major crypto currencies on the market, thanks to Neteller.
These include:
Bitcoin (BTC)
Bitcoin Cash (BCH)
Ethereum (ETH)
Ethereum Classic (ETH)
Litecoin (LTC)
Ripple (XRP)
0x (ZRX)
How to deposit Bitcoin to Pokerstars
The first thing you will need is a Pokerstars account.
If you haven't got one already, new customers can take advantage of Pokerstars latest offer of Deposit 10 Get 20 in Free Play bets.  
Pokerstars – Deposit 10 & Get 20 Free Play
18+ New customers Only, Terms & Conditions Apply
Quick Start Guide – Bitcoin to Neteller
Open a Neteller account + BitPay Wallet
Select Money In > Bitcoin/Bitcoin Cash icon
Enter amount to transfer – click Continue
In BitPay enter email address
Select Bitcoin
Either Scan QR code using mobile
OR tap "Open in Wallet" button on mobile
Complete transaction in BitPay App
Transfer time approx 15 mins
Neteller to Pokerstars
Log into your Pokerstars account
Select Deposit & Withdrawls > Neteller
Login to Neteller
Enter the amount & click Transfer
Funds are instantly transferred to Pokerstars
Pokerstars Accepts Neteller Screenshot Guide
Before you transfer any funds you'll need a Neteller account.
Creating an account is relatively simple, but you will need some form of ID verification, before you can transfer any Bitcoins.
You can do this quickly by connecting via your Facebook account, or take a photo of either your passport or drivers licence and upload the image.
Verification is normally pretty quick and then your good to go!
The next thing you'll need is a Bitpay wallet App on your phone. I'm assuming that since you are here that you already have this setup on your phone.
For more details on how to do this you can checkout Bitpay's setup guide.
Transferring Bitcoins to Neteller
If you've transferred or paid for goods using Bitcoins in the past, then this will be familiar…
Sign into your Neteller account and select Money In from the left sidebar.
Click on the Bitcoin/ Bitcoin Cash icon.
One the Deposit with Bitcoin page, enter the amount you want to deposit into your Neteller wallet and click the Continue button.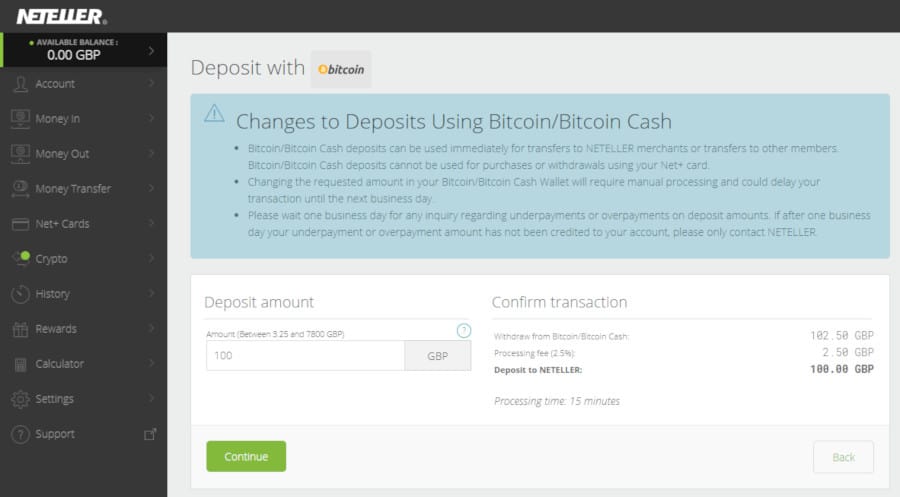 You will now be re-direct to Bitpay, enter your email address to continue.
Select which crypto currency you want to use, which in our case is Bitcoin.
You're now given two options to access your Bitpay wallet:
Laptop Users – Scan the QR code using your phone.
Mobile Users – Tap on "Open in Wallet" button
You will now be redirected to your Bitpay wallet to complete the transfer.
Once this is done the funds may take up to 15 mins before they are displayed in your Neteller account.
Key Considerations
Processing times can take up to 15mins.
There is a 2.5% processing fee to transfer funds.
Don't forget additional blockchain Network Costs which can range between £0.10 – £0.15.
£10 minimum deposit to Pokerstars.
How long will it take to transfer the funds?
This is entirely dependant on the blockchain.
In the past it can take up to an hour to transfer coins into Neteller accounts. But with the introduction of the Lightning Network this has come down significantly to less than a minute.
Are there any fees to deposit Bitcoins to Pokerstars?
Yes, you're charged 2.5% + Network Costs of approx £0.15 to transfer funds from your Bitpay wallet to Neteller. So if you deposit £100 your total cost will be £102.65.
While there are no fees to transfer from Neteller to your Pokerstars account, you will be charged to transfer any winnings back to your Neteller ewallet.
The Problem with Bitcoin
So why do gambling sites shy away from Bitcoin?
From it's meteoric rise and price crash, to lost or stolen coins, Bitcoin has been in the media for all the wrong reasons.
Now don't get me wrong!
I think crypto has been unfairly targeted by the media and used as clickbait, but you have to see this from their prospective.
Adding existing mobile payment services such as Paypal and Neteller that are already regulated by the FCA makes more sense, than rolling-your-own based on crypto platform.
It would add a huge upfront cost to setup and maintain, it simply isn't worth it for gambling sites.
Our Verdict
OK so maybe it was slightly misleading to say that Pokerstars now accepts Bitcoin, as it requires an intermediary payment system (Neteller) to act as a proxy to move money around.
Be aware of the potential hidden fees to transfer funds to Neteller.
Personally I would only use this deposit method as an option of last resort, if you enjoy gambling and want to spend your Bitcoins.
But I still think this a great back-door for crypto gamblers that want to spend their hard earned coin/tokens on one of the best poker platform on the market.