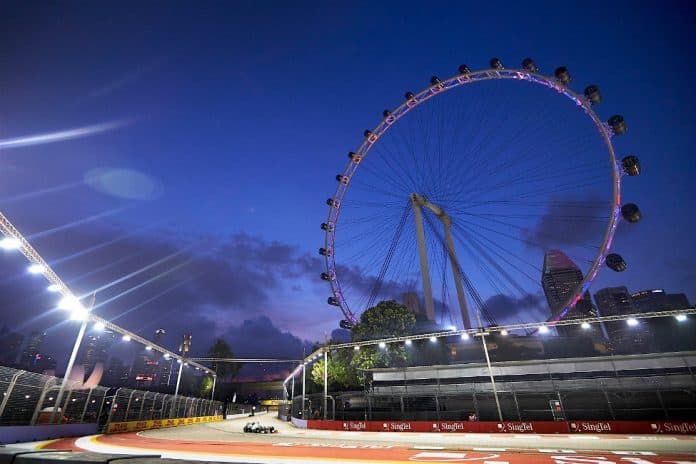 In this weeks Singapore GP 2016 Betting Preview we'll analyze Lewis and Nico who are pretty much all square points wise and see which driver has the edge for Sundays race, as well as give our top professional analysis of whether Ferrari or Red Bull can cause an upset in Marina Bay.
Singapore GP 2016 Betting Preview
We move to Singapore for round 15 of the F1 championship on 16-18th September. Marina Bay is a street circuit which is mainly run under street lights and in recent years has not been the most exciting of races. In 2015 Sebastian Vettel went from pole position to the chequered flag without any real problems, still he did handle the race well during the safety car stints. The race did not go well for the Mercedes drivers whose whole weekend saw them on the back foot. Lewis Hamilton seemed unable to get his tyres to work with pressure being the problem. The team claimed not to know what the problem was but it resulted in Lewis and Nico starting on the grid 5th and 6th respectably.
Carlos Sainz starting from 14th seemed to have been stuck in neutral, not what you want when cars are thundering past you and saw him drop back to 18th place. He did get going later in the race but was pipped at the line with teammate Max Verstappen.
Max also stalled on the grid having started a lap down and drove a classic race to finish in 8th position. It was the sort of performance that saw the young driver promoted this season.
Lewis Hamilton's day went from bad to worse and on lap 26 he lost power where he steadily dropped back until lap 33 when he retired; not a good day for Lewis. His teammate Nico Rosberg also had a bad day but did manage to find enough pace to see him come home in 4th which helped him to close the gap to 41 points in the championship.
The McLaren boys did not fare well in this race with both Fernando Alonso, and Jenson Button failing to finish the race. Alonso with a defective gear box on lap 34 and Jenson on lap 54 also with the same problem. Jenson will be doing his final Singapore race at the weekend as he will not be driving next season and intends to stay on at McLaren as ambassador for the team.
Daniel Ricciardo drove a perfect race to finish second, always a driver who will give 100% in any race. The Australian will be one to watch this weekend. Not a usual occurrence but on lap 37 a fan thought it a good idea to get a really close look at the cars going past which brought out the safety car and gave Ricciardo an advantage.
Well fans that's a quick look at what happened last season, so what do we think for Sunday? Well for one thing we at Betotg would not expect to see a replay of the problems that Mercedes had last season. They will have taken the weekend apart bit by bit to find out what the problem was and we expect to see both drivers back up front where they have been nearly all of 2016.
We would as always say if you like a gamble always look at the second best, as that's where the money is likely to be. You are not going to get much odds on Lewis or Nico, but the ones that can race them to the line are a good bet. That said we will stick our neck out and put our money on Ricciardo putting in another good session with Valtteri Bottas a real outside chance for making the podium. Both have really decent odds so make sure you grab your bets early.
Stats for Singapore GP 2016
Marina Bay Street Circuit
First GP: 2008
GP's held: 8
Laps: 61
Circuit Length: 3.15 miles
Race distance: 191.9 miles
Direction: Clockwise
Winners from pole: 6
Race start UK time: 1pm
Live on Sky Sports F1 and Highlights on Channel 4