Sochi, Russia | 01/05/16
Fourth round of the season takes us to Sochi in Russia, a relative new race on the F1 calendar with its first race in 2014.
Last year Lewis Hamilton dominated from start to finish and is the only driver to date to win on this track, so he seems to be more at home on this circuit and we think he'll be odds on to win this one. The veteran Brit has had a very bad start to the season and is currently 38 points adrift from his team-mate Nico Rosberg who has so far won every race this season.
In 2015 Nico Rosberg took pole position but had to retire early in the race due to engine problems, given the robustness of the Mercedes engine we'd hope he would not have the same issue this year. Rosberg's seems to have eroded any mental doubt he had during the past couple of years and looks to be in a good place so we're confident he'll pip Lewis to pole this time round.
Like every race tyre management is crucial but given that Sochi is a relatively new track it's not as important, this was proven last year when Rosberg did 52 of the 53 laps on one set of tyres. Other teams also took advantage of a one stop, last season Pirelli opted for the yellow banded soft, and red banded super soft.
Sergio Perez driving for Force India had a fantastic race last year finishing third on the podium. The young Mexican doesn't seem to have the same car performances so we wouldn't expect to see him finish as well this time round.
Another driver that had a stellar season in 2015 was Felipe Massa. The Brazilian driver finished a decent fourth in 2015 and the latest Williams F1 car has shown promise since the start of the season so he could likely be up their with the front-runners again.
Valtteri Bottas appears to have come off the boil in 2016. The Finnish driver had a stellar season for Williams last year but shows a fraction of the pace he had previously. It could be a blip and you could get really decent odds on a driver who's tipped for greatness.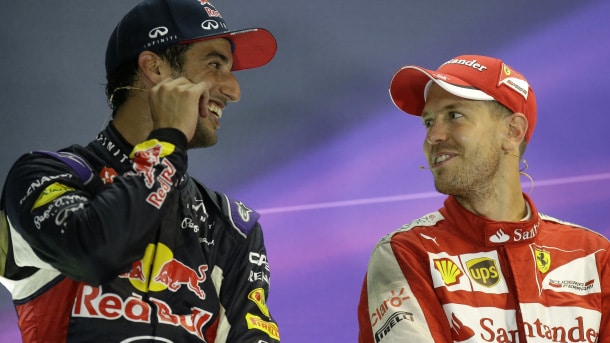 Another "one to watch" has to be Red Bull's Daniel Ricciardo. The incredibly talented Aussie may have an ace card in his sleeve this weekend as Red Bull's development program brings a significant upgrade this weekend which could see them 0.45 seconds quicker, that's huge in Formula One terms and given Ricciardo was a couple of tenth's of a second behind Lewis in the Chinese GP qualifying, there's the prospect that it could catapult the Red Bull cars to the front of the grid. This maybe a big outside shot but its one we're keeping a close eye on.
McLaren drivers Fernando Alonso and team-mate Jenson button did relatively well here last year in a season which saw one disappointment after another. Both drivers finished in the points (9th and 10th respectably) although Alonso was demoted to eleventh for cutting a corner. So with a car that's gradually improving we could expect to see them in the 1st third of the grid.
Well if you fancy a bet on this race we would say look beyond the Mercedes of Rosberg and Hamilton who will be odds on and have very little value. Our money would go on Sebastian Vettel or Daniel Ricciardo, the odds on these drivers will give you a good return for your bucks.
Stats for Sochi
First GP 2014
GP's held 2
Laps 53
Circuit length 3.635 miles
Race distance 192.468 miles