The Chinese Grand Prix gave us some excitement even before the first lap was complete. With Lewis Hamilton starting from the back of the grid he has his work cut out, but was able to work his way through the field to miraculously take a place on the podium.
With three race complete it's not the start we all expected from the three-times world champion but this weekend was down to minimising the lead Rosberg has on the Brit.
Another Bad day at the office for Lewis
"Keep clear of trouble on the first lap" was Hamilton's advice from his team, but losing his front wing in a collision with Felipe Nasr sent Lewis for an early pit stop. The damage under Hamilton's car came from the wing which resulted in car instability making it difficulty, in the end it was about damage limitation and Lewis the best he could to keep the gap down to a minimum.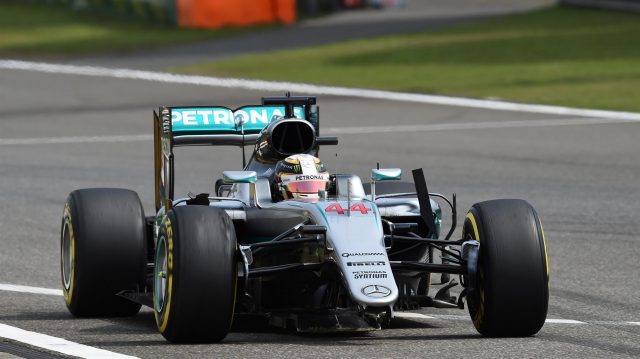 Daniel Riccardo showed his brilliance yet again by taking the lead by the first corner, leaving pole man Nico Rosberg wondering what happened, it could have been a surprise podium top step for him (and he would have deserved it) but as happens in F1 he must have picked some debris from earlier accidents, and a rear flat sent him to the pits in the third lap, he managed a fourth finish, some of the front running teams will be looking at his performance as a wake up call.
Rosberg hat-trick
Daniil Kvyat came flying down the inside on the first corner catching Sebastian Vettel of guard. Seb was so surprised that in evading Daniil he went into the side of his team-mate Kimi, try explaining that one to Ferrari. Was Vettel at fault or the young rookie?
Up at the front, Nico Rosberg did what he has done in the last six races, after the surprise of seeing Riccardo sail past in the first lap, he soon went back into his stride and looked the winner right to the chequered flag. We would not like to make a prediction for him this early in the season, but who will bet against him taking the word championship this year.
Signs of improvement at McLaren
Both McLaren drivers ran decent races. Button at one point was in fifth, and Alonso in fourth place, in the end they finished mid-table which may not be great but is a good step in the right direction.
Before his home race on 29th May, Daniil Kvyat put in a truly inspired race to end up on the podium. We think this driver is going to do big things this year, his home race will show if China was a one-off or not. Romain Grosjean did not perform as well as we all hoped for team Haas. The Frenchman ended the race way down and struggled throughout, it could be that the advantages Haas had over the rest of the paddock was short lived.
Kimi Raikkonen must have thought his race was over when his team-mate took his own and Kimi's front wing off. Even though this meant an early pit stop, he forged ahead and finished fifth. It could have been a lot better but he probably thought he was lucky to finish at all, Vettel seem to do a bit better getting a second place.
Our new driver on the grid Jolyon Palmer has not done as good as his first race, though we think it is more down to bad luck than driving, we want to see our British drivers doing well. So we hope the next race will see him move up the grid again, we are sure he will give it his best shot.