The first race of the new season in Melbourne Australia threw up very few surprises, the only one being it was Rosberg and not Hamilton who took the chequered flag. It would have been a different story if Ferrari had been better with their tyre choices, given Vettel's pace he could have easily taken the win. Hamilton's race was lost at the start, a poor take off from the line let both Ferrari's and team-mate Rosberg, Massa, and Verstappen ahead of the Brit.
Hamilton did well to recover finishing second behind his team-mate, but it was more to do with Ferrari's poor tyre choice and engine failure of Kimi Räikkönen's car than anything else. Felipe Massa as always gave a good account of himself to finish fifth, just beaten by Daniel Riccardo who gave the home crowd a great result in fourth.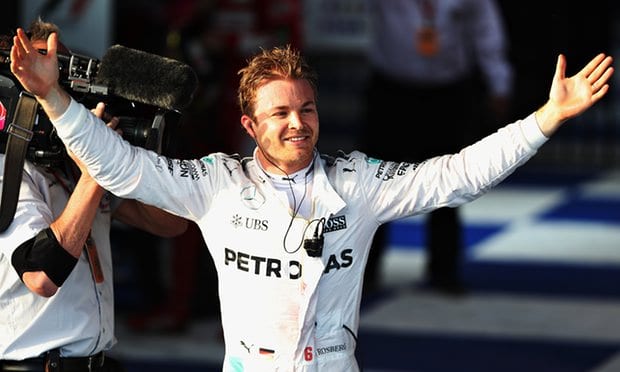 Romain Grosjean gave new team Haas a great start to their first year in F1 finishing in sixth place which was a fantastic result for the American owners, prior to the race team principle Günther Steiner had said he would be happy for the car to finish the first race. Alonso walked away from a horrific accident involving the other Haas driver Esteban Gutierrez, that in another time would have been fatal, it just shows the extent of development that F1 has made over the years for the Spaniard to walk away from such a crash.
So next up on the calendar is Bahrain and due to the calamity of the new qualifying system which saw the last few minutes without a car on track hope they will revert back to the old format. Lewis Hamilton drove a dominant race here in 2015 and given his performance in qualifying in Australia we can't see any reason why he won't repeat the result this year.
Raikkonen put up a great challenge in last years Bahrain to pass Rosberg due to a clever change of tyres, We don't see that happening this year, as part of Rosberg's problems was brake wear, and he is driving much better as seen in Melbourne.
Ferrari must be feeling confident going into this race as both their drivers look comfortable in this the new car. Both were very quick off the line leaving the rest of the field behind, if Kimi can keep his engine in one piece, we can see them up-front at the end of the race.
Jenson Button and Fernando Alonso will again be taking up the rear, we cannot see how McLaren can improve the car to even put them in the points, it looks to be a slow development program for the team. Jolyon Palmer has already shown he can race, and we expect to see him do well in Bahrain, eleventh was a very respectable position for this young man.
Pascal Wehrlein was another young driver who did very well to come sixteenth for Manor. Provided he stays consistent there's the real possibility of him getting some points this season. Team Haas look to have hit the ground running and their decision to purchase parts from Ferrari have paid off big time. Without doubt Romain Grosjean is a very capable driver so who knows if they keep this level of performance off they could even grab a podium place.
The Bahrain GP has always been a good indicator as to how the rest of the season will shape up. With the likes of Ferrari closing the gap and Haas showing they have a very competitive car it's unlikely that Mercedes will dominate as much as they did last year, to the relief of the fans.
First Race 2004
Laps 57
Circuit length 5.412 km (3.363 mi)
Race length 308.405 km (191.634 mi)
2015 Race Winner Lewis Hamilton (Mercedes)