Man City v Dynamo Kiev Betting Odds Preview 15/03/16
Champions League First Knockout Round – Game 2  |  Etihad Stadium  |  KO-19:45
Manchester City will start this return-leg game in a commanding lead and it will take a lot from Dynamo Kiev to claw back two goals at the Etihad.
Pelegrini's side were dominant throughout the first half and Man City broke-through first with a corner from David Silva which ended on the foot of Sergio Aguero as he volleyed the ball in the back of the net for the visitors to take the lead 15 minutes into the match.
Towards the end of the first half Man City struck again with a brilliant link-up play between Aguero and Raheem Sterling who then cut into the box for David Silva to make it 2-0 for The Blues.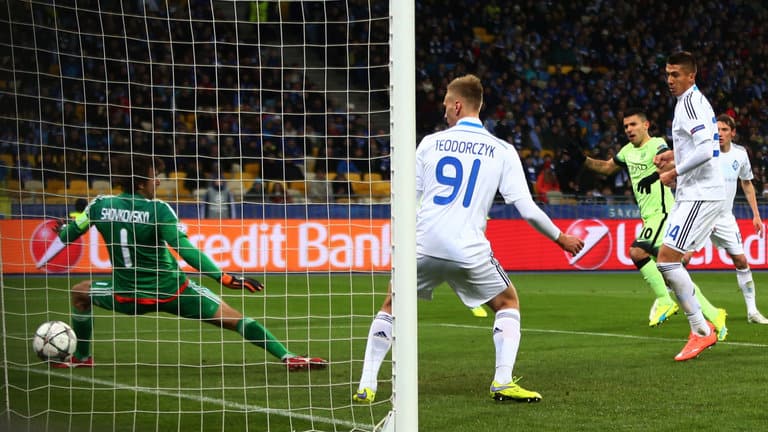 It didn't all go in Manchester City's favour and Kiev got back into the game in the second half when they capitalised on the counter with Vitaliy Buyalsky smashing a volley past Joe Hart to give the Ukrainian side a life line. They continued to chase the game and take any opportunity they could but Yaya Toure ended Dynamo's hopes of finishing the tie with a draw when he skillfully curled the ball into the top corner to give the visitors a comfortable lead in the return-leg.
Although it's going to be tough to get back into this draw for Dynamo Kiev, Man City's lack of consistency throughout the season (a perfect example of this was beating Liverpool in the League Cup final only to be beaten 3-0 three days later by The Reds) means they still have a chance. Fernandinho also believes the game is not over and has warned his side that they must not go into this tie thinking it's a formality, they have to finish them off and early on.
If Manchester City's start the game off as they did in the first leg against Kiev, with Fernando pressing and dominating the midfield, allowing Toure time on the ball then we see why Pelegrini's men can add to their three goal tally. City will not want Kiev to get an early goal so expect to see some caution and strong possession from The Blues early on.
It's likely that Yaya Toure should be fit for the game following his calf injury but both Nasri and Delph are out of the match with hamstrings.