In our Joshua v Klitschko betting tips, we'll assess both fighters previous performances, latest rumours coming from the training camps and rate their chances during the buildup of what could be the biggest fight of the year.
While the rest of the Twitterarti are drooling at the prospect of Mayweather facing UFC legend Conor McGregor, the biggest title fight of his career edges nearer for Anthony Joshua. British IBF champion Joshua takes on arguably one of the most successful heavyweight champions of a generation in Wladimir Klitschko for the vacant WBA and IBO titles at Wembley Stadium on 29th April.
The meteoric rise of Joshua
Anthony Joshua's professional career has been on a steady incline with the boxers promoter Eddie Hern doing a decent job of building Joshua's profile up to this point. The British boxer picked up the vacant IBF belt from Charles Martin in Feb 2016 and since then has defended that title well against strong opponents.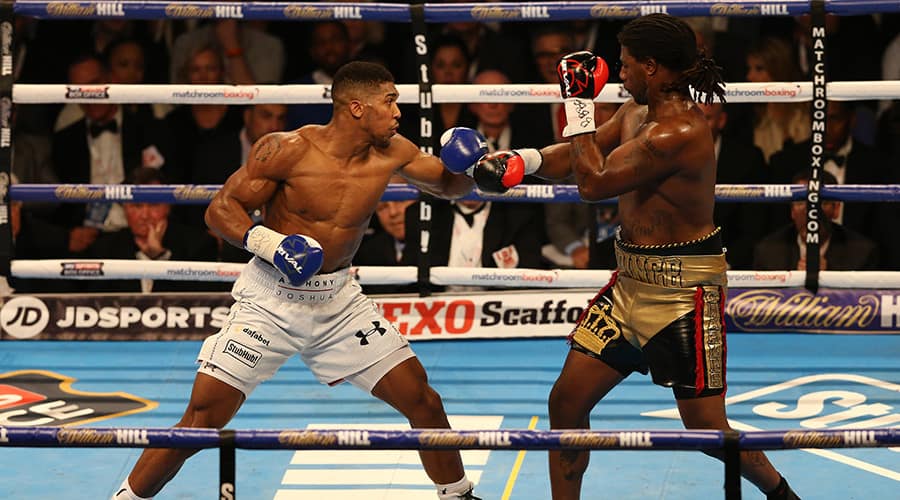 In Joshua's first title defence he took-on former heavyweight champ Bermane Stilverne and dominated the fight, which ended in the eight-round when Joshua delivered a huge left which dropped Stilverne. To be fair to the Canadian it was the first time since Deontay Wilder that Joshua was taken past the first three-round.
The Brits made easy pickings of Molina for his second title defence which was a one sided affair and saw Joshua knock-out Molina in the third round.
It's far to easy to say that Anthony Joshua's had too many "former champs" with nothing left in the tank. But with 18 wins in 18 fights, its time for Joshua to step-up his game and you can't get a more tougher opponent than the Ukrainian.
Klitschko's shock defeat on points to Tyson Fury in 2015 left one of boxing's most decorated fighters in pieces and with Fury decision to retire from boxing for personal reasons it was inevitable that this fight was going to happen.
Is Wlad past his best?
At 41-years-old Klitschko is well past his prime and given the fact that the he hasn't fought anyone since his loss to Fury the odds are stacked up against him. But with that said you can't write-off his decades worth of title fight experience in the toughest field in sport.
How the fight could unravel
Klitschko is a methodical fighter with an incredible reach given his stature and tends to wait for opportunities to arrive later on in the rounds. As we saw in 2010 with his fight against David Haye he likes to control the centre of the ring so i'd expect Klitschko's game-plan will be to control the pace of the fight and try and slow Joshua tempo down to his level to give him the best chance of getting a result.
Who's our money on
It's unthinkable to put Wlad past his best, but given his lack of prep for this fight and the fact he hasn't fought anyone since 2015 this looks like a final testimony for one of the sports greats and a changing of the guards. Joshua's age puts him at his prime and on paper they are both well matched with height and reach, so we'd expect Joshua to win in the later rounds (7-10).
But don't think Klitschko will make it easy for him and just one slight mistake from Anthony could give the "wiley-old" Ukrainian his chance to pounce.