Slot game developers have had easy for too long, churning out the same old tripe year after year.
That's all about to change with Play n GO's latest offering Viking Runecraft, which aims to level the playing field and push web-based gaming to the limit – providing a totally immersive environment.
But before we get carried away lets give this slots game the "Total Wipeout" experience and really put it through it paces.
Valhalla Awaits
Viking Runecraft does look very intimidating at first but this cascading slots game breaks away from the traditional reel-scrolling gameplay which in our opinion has been re-made to death.
This 7×7 design has more features than you can shake a stick at – which means much more entertainment. With spins costing as little as 10p and going up to a max of £100 Viking Runecraft suits every punters price range.
Sat on an icy nordic backdrop this uber cool slots game comes with a variety of viking characters: Thor, Odin, Freya and Heimdall which switch as you level-up. With up to 5 levels on offer you can reach the gates of Valhalla and become of God himself.
Recommended Slot Sites to Play Viking Runecraft
Totally Immersive Gameplay from the Start
To move up a level you need to collect all of the rooms within the pattern that's just underneath the character. Once you have collected each rooms for that pattern you will increase to the next level and a new character will emerge
A win on the grid involves receiving 5 or more adjacent patterns. This in turn will charge your Destruction Meter which you find on the left hand side.
As winning patterns are burnt new symbols drop down to replace them so you can have multiple winning patters just from one spin.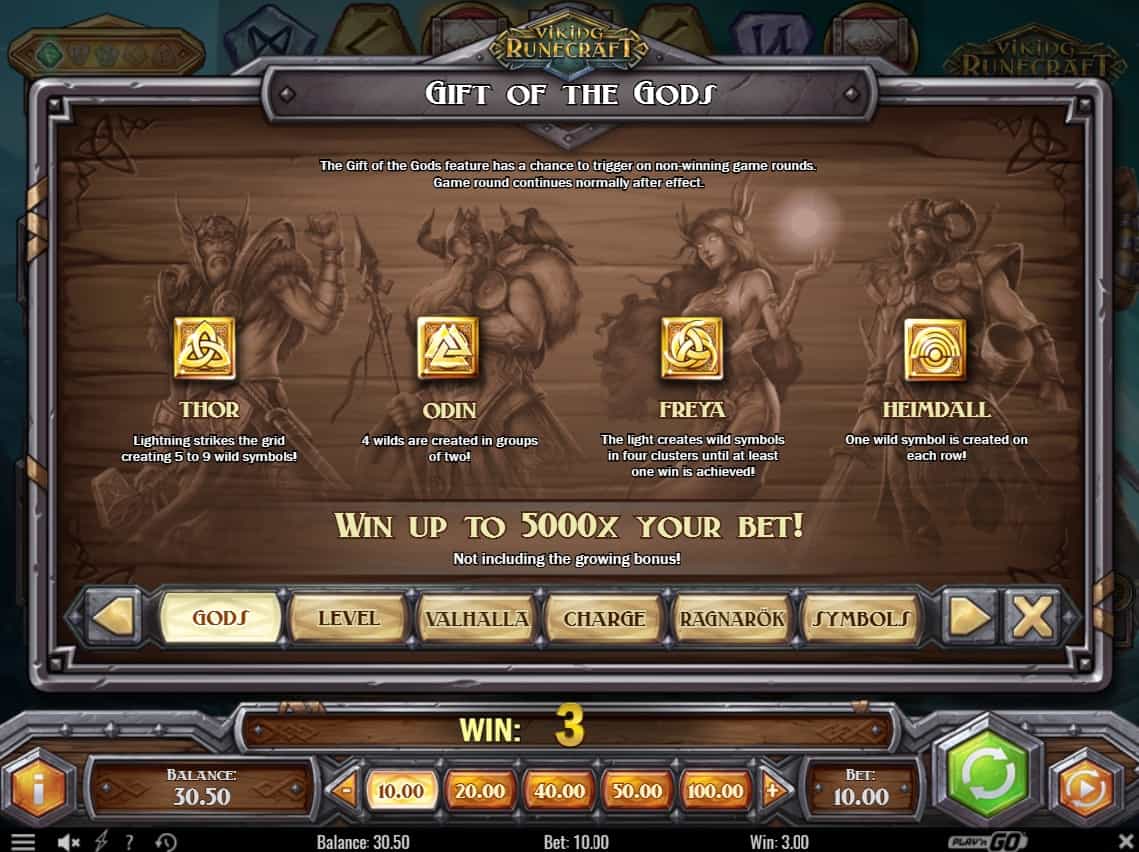 Charge of Destruction Bonus
The aim is to fully charge your Destruction Meter which will unlock one of four animated Charge of Destruction bonus features which includes
Lure of Loki
Selects 2 symbols (lets say the axe and helment) on the grid and burns all of the first symbols, so in this instance all axes would be burnt. It then converts any helemts to another symbol.
Fury of Fenrir
Destroys 4 diagonal lines and burns matching symbols within the strike, with new symbols dropping down to replace any winning patterns.
Judgement of Jörmungand
This is a mega feature which destroys a path of symbols from one end of the grid to another in no order to build up.
Scorching of Surtr
Selects 3 types of symbols and burns any of those on the grid with fire spreading out and burning any nearby symbols.
Runes of Valhalla
As you play you will also collect rune stones from any winning patterns. The stones that you have will be displayed in the top left hand corner.
Collect all 5 rune stones which slot into each block on the Rune wheel to win extra bonuses and increase your winnings.
Annihilation Ragnarok Feature
The ultimate killer bonus has to be the Ragnarok. To achieve this you need to double-up on the Charge of Destruction Meter twice which means you need 40 winning symbols, charging from yellow to blue which unlocks Ragnarok embolim feature.
The Ragnarok will unleash all four Destruction features one after another until all four have been used.
Not only this but each feature comes with a winnings multipler which can go up to a staggering 15x. It's the biggest bonus on the game and once you achieve it just watch you winnings come rolling in.
Our Verdict
Viking Runecraft really tries to differentiate itself from the drab and mundane slot games of years gone by and does so quite spectacularly.
The visuals simply took my breath away and is a far stretch from some of the latest releases of last year. I think there's a great balance of great CGI and features that should please even the most die-hard of slot players.
In all Play n Go have done an exceptional job with Viking Runecraft and raised the bar exceptionally high for the rest to keep up with.