Paddy Power has an excellent reputation for creating apps and products that not only work, but customers need, which enhances the user experience when betting.
But it appears that not all that Paddy touches turns to Gold…
Here I'll discuss Paddy Power PP Onside and some of its benefits and go into detail as to why it could be Paddy's worse app to date!
Finally, we'll compare PP Onside with its peers and highlight some of the pros and cons of each, so you can decide which one to use.
Highstreet Champion
While some bookmakers have decided to turn their back on the highstreet, Paddy Power has been Stoic in it's attitude to keep sports betting shops alive.
Which should be commended and put them in a commanding position for punters that want to regularly meetup in their local bookies.
Paddy is also keen to make sure that in-store customers get as many perks that online punters do, such as MBS offers and enhanced acca odds.
As a result, they've released the Paddy Power Onside app which has had a mixed response from punters.
PP Onside
What is PP Onside?
It's an app that lets you track and change your in-store bets wherever you go. PP Onside allows you to track or cash out on any bets, watch live video and audio streams and receive rewards.

Never miss out on another cash out opportunity.
With PP Onside you can take your bet with you on the move. Cash Out when you see the game change, allowing you to minimise risk or take advantage when an opportunity arises.
Connect your PP Onside app with Paddy's Reward Club and when you place five bets, you'll receive a sixth bet free on Paddy.
Paddy Power Onside App Benefits
Track your bets wherever you are.
Cash Out bets in seconds.
Follow, Watch, and Listen to in-play match commentary.
View results and see how much you have won.
Paddy Power Onside also come with a few extra perks and offers which we'll discuss later on.
How to track a bet with Paddy Power Onside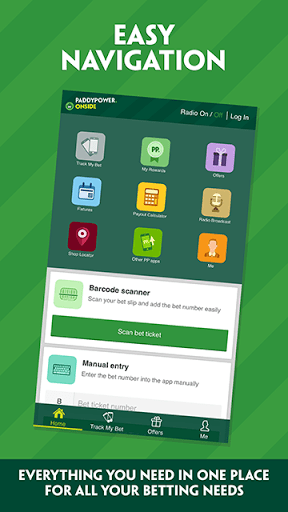 To start tracking bets with PP Onside, the first thing you need is a Paddy Power account.
Next, download the app onto your mobile device; use the Apps Store if you have an Apple device, or Google Play Store for Android devices.
Both versions are compatible with devices that are Android 8 or iOS 9.0 or later.
Open the Paddy Power Onside App.
Select Scan my Ticket.
Scan the barcode on the ticket.
The ticket will automatically appear on the PP Onside app.
Track and Cashout wherever you are.
You can scan multiple tickets and keep track of them via the Paddy Power Onside app, as well as cash out in-play.
What do Punters Say?
So, is PP Onside any good?
Well from some of the punter's reactions, it's not great.
Most of the complaints have been about a recent firmware upgrade which has resulted in the app freezing.
One punter that frequently uses the app told me that "While it's good for checking settled tickets, don't bother with using the cash out feature. On several occasions when i've had a good chance to cash out a big amount, the app suddenly stops working."
After all the negative responses we received, I had to try it for myself and try to give an impartial review.
The Good, The Bad and the Paddy
Paddy Power Onside struggles to provide cash out prices while matches are in play. But once the game has finished it "miraculously" works as normal.
After playing around with PP Onside for just over a week I found issues similar to those already raised by punters on forums.
The real issue was the cash out feature, which in my mind is the game-changer of the app.
As most punters have already pointed out, Paddy Power Onside struggles to provide cash out prices while matches are in play. But once the game has finished it "miraculously" works as normal.
Now I can see why so many punters might be skeptical that the app stops working just when you want to cash out, but hear me out.
It "could" be that Paddy's system cannot cope with providing all of the data requests for all of their services and simply priorities them. Bear in mind that it needs to not only service the PP Onside app, but also the main website and mobile app as well as API services.
I tried to contact Paddy Power's Head of Communications for a response, but to date we have not had a response.
Unless Paddy Power attempts to contact us with an explanation we can only guess as to the reasons for the technical issues during in-play and whether they intend to do anything about it.
PP Onside FAQ:
Can you track acca bets with Paddy Power Onside?
Yes, you can track all types of bets including single, multi, up to 14 fold accumulators.
How do I link PP Onside with Rewards Club?
Provided you have both apps on your phone and have logged into each, they will automatically be linked together. Any bets that you scan with PP Onside will be added to Paddy Power Rewards Club, giving you a free bet when you place five bets.
Summary
Paddy Power PP Onside had so much potential!
In theory it looks like the perfect app bridging the gap between in-store betting for die-hard punters, with features that are exclusive to online or users.
But Paddy appears to have squandered a fantastic opportunity to own that market.
I think what it is missing is a couple of months of focus on the re-development of the app, to iron-out any issues that frustrate customers. But I'd imagine in the climate we're in, high-street apps are at the bottom of Paddy's list.
For now at least, Paddy's well and truly been caught off-side!