As sports betting continues to expand from state to state, we're here to answer some of the questions we receive from sports fans.
In this week's feature we're going to discuss FanDuel gift cards. Are they available and where can you purchase them from?
We will briefly discuss some alternative gift cards and the advantages of them over FanDuel gift cards.
Finally, we'll also show you how to double your gift card bonus with an exclusive offer.
The Gift of Giving
If your partner is big sports fan that loves to gamble every now and again, you may have considered getting them a gift card as a birthday present.
The difficultly is wondering where you can get them from and who to go with.
FanDuel is one of the largest fantasy and sportsbooks in the US, with licences in every state that has legalized sports betting. So it's fair to say that FanDuel would be good place to start.
Does FanDuel offer Gift Cards?
No, currently FanDuel do not offer gift cards of any sort as it must comply with gambling regulations which prohibits this in every state.
That is not to say that things may not change in the future as sports betting matures in the US, but for now you can't.
But where there's a will there's a way…
Alternatives to FanDuel Gift Cards
OK so you cannot get a FanDuel Gift Card direct.
But there is another way of buying gifting cards which you can use on FanDuel, with the added bonus that you can use them on any gambling sites, including sites that allow deposits using your phone bill.
Here are 3 alternative ways to gift credit to FanDuel:
1. Visa Gift Card
While there are restrictions on sports betting sites from having gift cards, this does not stop financial service companies such as VISA from providing the same service.
You can purchase the VISA gift card from any local supermarket such as Target, Wallmart or even Home Depot. You will generally find the cards at the end of the aisle or next to the checkout.
VISA gift cards can be purchased online using either Amazon, Gift Card Mall or Giftcards.com. With next-day delivery available.
The bonus of purchasing a VISA gift card over FanDuel (if they had one) is that you don't have to spend all of the credit on one site. In fact you don't have to spend all of it on sports betting. You could spend less and use the other half on shopping or buying a present for yourself.
Whereas, if Fanduel were to release a gift card you would have to spend the full amount with them.
How to deposit VISA Gift Card to FanDuel
Depositing funds to Fanduel using a VISA gift card is really straightforward and similar to how you would pay for any other items online.
1. In Deposits select VISA Debit card.
2. Enter your 16-digit number which you will find on the front of the gift card.
3. Funds will automatically be credited to your account.
VISA Gift Card Q&A:
How much can you buy?
There are five tiers of VISA gift cards with different currency value, which includes: $10, $25, $50, $100, $250.
You can purchase any of these either instore at your local supermarket or online retailers such as Amazon or giftcard.com.
How much can you deposit?
Any amount you like.
You can deposit the full amount or just a fraction. Just be sure to meet the sportsbooks minimum deposit requirement, which is normally between $5 – $10.
The remaining amount will still be available on your card to be used again.
How much is left in my VISA Gift Card?
I know it can be difficult to keep track of your transactions sometimes. The best way is to keep a note of how much you have used on your gift card, but I appreciate that isn't always convenient.
The alternative is you go to a local Wallmart and ask the cashier to scan the gift card. She will then be able to tell you how much is remaining on the card.
If you need to know asap, then you can log onto VISA's website to check out your balance, but this may require you to register beforehand.
Do Banks sell VISA Gift Cards?
No, you can only purchase VISA gift cards from major retailers such as Amazon or Wallmart or online gift card sites.
Mastercard Gift Cards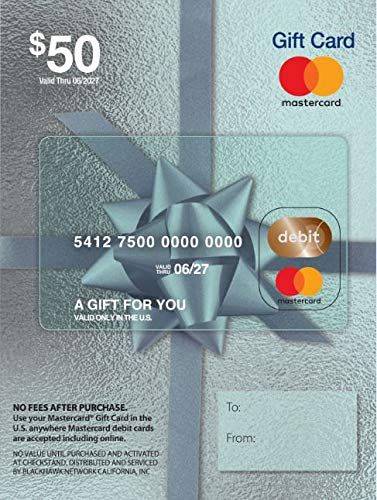 VISA is not the only payments player in town.
Mastercard which provides the same financial payment services as VISA also sells gift cards which you can use to credit sportsbooks and casino accounts.
Gift cards are available from the same outlets mentioned previously or through the Mastercard website.
The process to add funds using a Mastercard Gift card is remarkably similar to those mentioned using a VISA card, you should be able to follow it in a similar way.
There is no real difference or benefit as to which provider you choose (Mastercard or VISA) just as long as you use either of these, as they are the leading payments provider globally.
2. Cash is King
It may sound like a bit of a cop-out (especially when it involves birthday gifts) but cash is still king.
Not being tied to any one gift card provider gives the holder much more flexibility with their cash than they would otherwise have.
Personally I would much prefer cash as a gift rather than gift cards, as some cards have an expiry date – cash doesn't and as discussed it allows me to spend the cash on whatever I want (not just sports betting). So if an emergency comes up such as a boiler repair, you can put this cash to good use.
Exclusive FanDuel Offer
Do you fancy doubling your gift card credit? Yes, I thought you might.
Well if you sign-up to FanDuel using our Exclusive FanDuel Offer you can get up to $500 in free bets if you lose.
So, if you place $200 on your first bet and lose, FanDuel will credit you $200 in free bets. Just be sure to use the credit within 72 hours otherwise you will lose it.
If you have multiple selections on one bet slip, Fanduel will use the first selections stake as the amount to credit your account.
Our Verdict
Although FanDuel themselves do not have gift cards available per say. I hope that what we have shown you, in the case of VISA/Mastercard gift cards, is a much better solution as it doesn't tie you to just one sportsbook.
Most of these gift cards do not come with an expiry, but it is always worth checking the T&C's attached in-case you get caught out.