Monzo is the UK's first online only bank, that aims to shake-up the banking system.
The digital payments app is growing at a rapid rate, with two million users and more than 200k new customers signing up each month.
In this article i'll explain just what is it that gives this online bank an edge over it's competitors.
We'll discuss the pros and cons that bookmakers may face by fully integrating Monzo.
Plus why I believe Monzo will dominate the digital payments space when it comes to depositing to bookmakers.
Contents:
Fintech Shake-up
Monzo – Built for Mobile
Mobile Betting Needs a Mobile Bank
Which Bookmakers accept Monzo deposits?
Why Monzo is perfect for Sports Betting
Our Verdict

FinTech Shake-Up
In recent years the financial sector has seen radical change, with a number of fintech start-ups looking to take on the oligarchical big banks at their own game.
And the rewards are enormous.
According to the World Payments Report;
Total Global non-cash payment volumes reached 600 billion in 2018
E-wallet transactions surpassing 55 billion
Each of these transactions take micro-payments for the convenience of transferring the funds, the two biggest names being VISA and Mastercard which bring in tens of billions of dollars in revenue each year.
More recently, fintech companies such as PayPal, Square and Monzo have come onto the scene to take a slice of the financial payments pie, which will continue to grow 12% annually.

Monzo – Built for Mobile
Unlike more traditional financial institutes such as Barclays and HSBC, fintech companies such as Monzo are listening and adapting to consumer trends which are seeing demand in mobile/online payments.
In this year alone i've paid for more online services and goods using PayPal than in the previous five years, as it it provides greater convenience and enhanced security.
Which we'll come to later on…
This trend is set to continue as more companies switch to digital services.

Mobile Betting Needs a Mobile Bank
What's so special about this start-up tech company?
Well Monzo's has first-mover-advantage in this space.
It's the UK's first digital payments service and online bank that is regulated by the FCA – a huge milestone for the company.
Not only can you pay for goods using Monzo's mobile app, but you can also set-up an online current account and have access instant to your cash via a debit card.
OK so a debit card isn't anything ground-breaking.
But unlike other e-wallet financial services like Neteller and PayPal, you can transfer any winnings directly to your Monzo account, allowing you instant access to your cash on mobile and through your cash card.
Monzo has also been built from the ground up, with mobile in mind.
So where big banks have created apps as an after thought using third-party companies, Monzo entire core business is it's mobile app.
Which is why a recent report from Bloomfield states that Monzo has an NPS score (which tracks customer satisfaction) of 80, which is unusually high for a bank.

Which Bookmakers accept Monzo deposits?
The great news is they all do!
Monzo is accepted by all online bookmakers that accept debit cards as a method of payment. Simply enter your sort-code and account number during registration as you would do with any other bank.

Why Monzo is perfect for Sports Betting
Where I think Monzo will excel in the future is when bookmakers fully adopt the banking app onto their sportsbook platform.
In effect connecting both bookmaker and banking app seamlessly.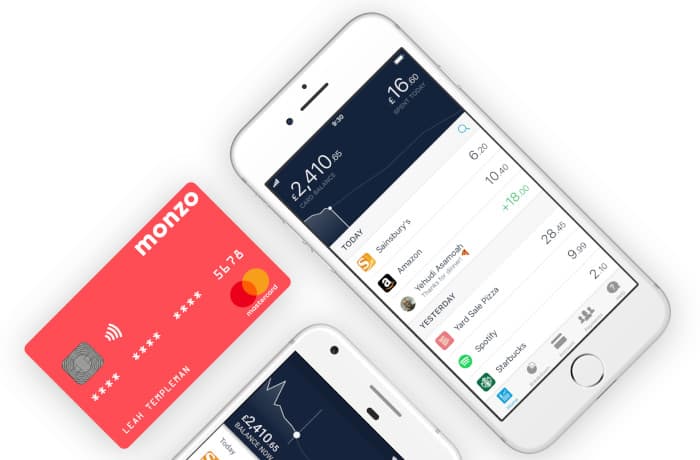 Why?
This would allow punters to quickly and safely top-up their balance using the Monzo app. The user would simply enter their Monzo password/ finger print and enter the amount they want to deposit.
No card details would be entered on the bookmakers site and within a couple of taps the money is transferred into your bookmaker account.
As discussed previously, any winnings can be instantly credited back to your Monzo bank account without having to login online and request a transfer, which is what you currently have to do with other ewallet platforms like PayPal and Neteller.
Finally, there are no fees with Monzo.
That's right, unlike PayPal and Neteller that will charge you up to 3%, with Monzo there is no charge to transfer any winnings back to your account, all you will pay is your standard bookmaker commission rate.

Our Verdict
Fintech companies are changing the landscape of how we pay for goods and services online and on the highstreet.
Bookmakers will adapt to changes in trends and we've already seen this with the adoption of e-wallets such as PayPal.
In this next phase we'll see fintech banks such as Monzo providing a simpler yet more secure way of transferring our money between accounts.
While I do not entirely endorse Monzo to be used as your main current account to handle all of your monthly transactions. I do think it's useful as a holding account between your main bank and bookmaker.
This avoids you entering your main account card details online and thus significantly reduces the chances of you being hacked.