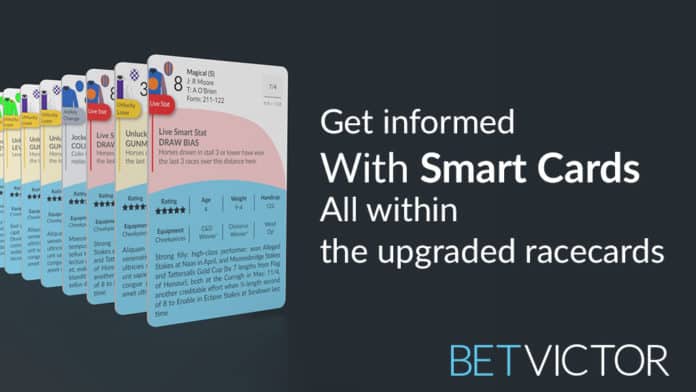 There is no shortage of innovative products being released by BetVictor.
Last week the UK bookmaker launched BetVictor Smart Cards with an aim to take a stronger position in the online horse racing market.
So what makes BetVictor Horse Racing Smart Cards so different?
For the first time ever, you will have access to the latest up to date information from the paddock with smart cards – direct to your mobile.
In the past horse racing race cards were released just 24 hours in advance and remained static until the time of the race.
With BetVictor Smart Cards you get on-track insight from jockey and trainers, along with on-the-day insider tips and dynamic analytical data.
Smart Cards will also highlight any trends in betting activity, so you can make an informed decision and improve your chances.
Following the news, Product Designer – Adam Barnes was keen to discuss the key benefits:
"Traditional racecards remain static and do not update as the day's racing unfolds. This can result in racecards displaying stale, inaccurate or misleading information. This was the opportunity which we focused on."
"With Smart Cards we will display a selection of smart stats which are delivered dynamically to our racecards. Each morning, we will analyse the day's races and deliver the most eye-catching statistics which will give users a better understanding on a horse's chance in a race."
BetVictor Smart Card Key Features
Some of features include an alert if a jokey and trainer with a higher than average strike rate team-up.
In this instance the smart card would alert you for that particular race and the number of races they are involved in.
Other live up to date information can be if there is a last minute jockey changes or changes to weather conditions which may or may not favour certain horses.
If in the meeting a jockey or trainer has won two or more races the smart cards will flag this to the user.
Latest BetVictor Offer
If this has peeked your interest we have an exclusive BetVictor offer: Bet £5 Get £40 in Free Bets.
Bet just £5 and get £20 in Sports Free Bets & a £20 Casino Bonus. Free bets must have odds of 2.0 or greater and will expire within 7 days, so make sure you use them.
There is no wagering on sports free bets, but casino bonuses come with a 40 times wager requirement.
Betvictor Horse Racing Smart Cards Q&A:
Where can the horse race smart cards be found?
Simply head over to the Horse Racing tab and click on any of the UK or Irish horse racing events and the Smart Cards should be in front of you.
Where is the information sourced?
Betvictor have a long standing relationship with Timeform which provides horse racing analytical data content.
Do any other bookmakers offer this feature?
No currently Betvictor is the only bookmaker to provide dynamic and up-to-date racecards throughout race-day. It's likely that other bookmakers will follow-suit giving BetVictor customers and edge.
Our Verdict
While Betvictor Smart Card may not be the holy grail for horse racing fans, it's clear that they are trying to give their customers an edge over their rivals with the latest, accurate information from the track.
This is such an impressive product that it's only a matter of time before every other bookmaker cotton's onto the idea and creates their own. So why not take advantage of this and exploit the narrowing odds while you can.