Summary:
Bookmakers within holding companies could be potentially sharing data.
What data protection rights you have and are they enough to protect you.
How to

delete bookmaker cookies

and setup private web browser windows.
Harvesting Your Data
Nowadays we hand over far too much information of ourselves on the internet.
And in most cases users don't even realise they are doing it.
Most of the information we give away is relatively harmless, such as our geographical location or products we're interested in.
So how do companies collect this information?
One word… Cookies.
Most of the time when you go on a new website you will be asked to accept their terms and use of cookies.
In fact our site uses basic google analytics meta-data, to collate user information about which pages users have viewed and the length of time spent on each one. So we can see which content is more engaging to our users.
But what are cookies and should you be concerned?
What are Cookies?
Cookies are small pieces of data sent from websites and stored onto your computer to record user browsing activity. In some cases it can be something as simple recording the items in your basket. So the next time you browse the same site, the items will still be there in the basket saving you time.
So as you can see cookies hold very simple pieces of user information. It's not monitoring or recording your every move, it's not that smart.
Suffice to say that in general most cookie data is harmless and not much use to other websites.
Essentially cookies are your personal preference data for each website. So the cookies of one site is of no use to the cookies of another.
Fair Game?
The problem is that bookmakers have a reputation of not playing fair.
Over the years there have been various articles raising the issue of bookmakers installing so called iesnare which aims to scrape as much meta-data it can to build-up a profile of the user.
And the worse part is it's completely legal!
As bookmakers say that they are retrieving data about the device, such as IP address or browsing history, and NOT the users themselves.
In the past bookmakers have defended their actions stating they are forced to do this due to regulation, and without this software it would be impossible to meet regulatory guidelines set out by the Gambling commission which include; ensuring that no money laundering occurs on their platform.
Personally I think this is pathetic excuse, even by bookmakers standards…
But fore warned is fore armed, and understanding the limitations of what bookmakers can and can't extract from you is a means to fight back.
Should I be worried about Bookmakers Cookies?
Well maybe…
You see, cookie data should be defended by the Same-Origin Policy, which prevents one site from accessing and reading the cookies of another.
Technically there's nothing stopping websites accessing other cookies. What legally protects you is the Same Origin policy.
Case closed then?
Well no quite, as some bookmakers are part of the same holdings company and this is where it becomes unclear.
Paddy Power and Betfair are part of the same group Flutter Entertainment. And GVC Holdings owns and operates both Ladbrokes and Coral sportsbooks.
It's possible that Paddy Power and Betfair cookies are part of the same group of cookies (Flutter Group) and can therefore share data between companies.
I will stress there is no concrete evidence that this is happening and is purely speculation, but it is plausible.
So what should you do if you are concerned by bookmaker cookies?
Well you could of course you could delete the data every time you finish a web browsing session.
In fact you can set this up in a couple of minutes and is fairly straightforward to do.
In this following section we'll go through a step-by-step process of clearing your existing cookies and setting up an automatic "clear cookies" every time you close your web browser.
Don't worry we'll still keep your autofill data for usernames and passwords, so you don't need to complete this every time you log into websites, this is purely meta data stored in cookies.
Deleting Bookmaker Cookies  – Chrome Browser
Android Devices
1. Tap on the Chrome Icon
2. At the right of the address bar tap DOTS > Settings
3. Tap on Privacy > Clear Browsing Data.
4. Set Time Range to All Time and check the box Cookies and Site Data.
5. Finally tap on the Clear Data button on the bottom right-hand corner.
Unfortunately Chrome on Android does not allow automated clearing of cookies, so we suggest you use a private window, which we show you how to setup further below.
Desktop Devices
1. At the right of the address bar click DOTS > Settings.
2. On the left-hand sidebar select Advanced > Privacy and Security > Clear Browsing Data
3. Set Time Range to All Time and check the box Cookies and Site Data.
4. Click the Clear Data button on the bottom right-hand corner to delete all cookies.
To clear cookies every time you close Chrome
5. Select Privacy and Security > Site Settings > Cookies and Data
6. Then check "Clear cookies and site data when you quit Chrome" switch.
7. Close the window and your cookies data will be cleared.
Wait! I just want to clear bookmaker cookies and keep cookies from other websites.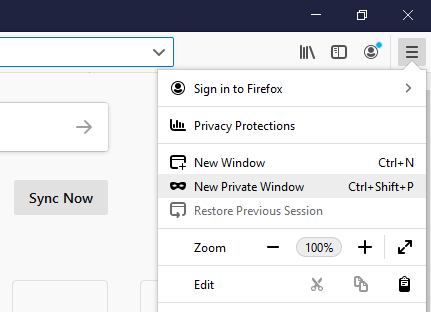 In that case you will need to open a New Private Window or Incognito as it's known on Google Chrome.
This allows you to open a blank web browser window that's separate from your existing window with no cookie data – treat it like a new blank session.
Once you've finished browsing the bookmakers site, simply close the window using the cross in the upper right-hand corner and the cookie data for that window is automatically cleared.
Open a New Private Incognito Window for Bookmaker sites
This is really simple to do.
Chrome:
At the right of the address bar click DOTS > New Incognito Window.
Firefox:
At the right of the address bar click VERT > New Private Window.
You can also open a private window quickly on desktop by holding Ctrl+Shift+N on Chrome or Ctrl+Shift+P on Firefox.
The new private "incognito" window should appear. You can now browse bookmaker sites in this window privately.
Once you close the window the session will end and your cookies will be deleted.
It's recommended that you open private windows for each bookmaker, as cookies are still used being used per session. So i'd recommend opening a new private window and to close this down once you have finished with that particular bookmaker and open a new one if you want to switch to another bookie.
One Caveat with using Incognito Windows
There is one word of caution when using private "incognito" windows, and that is that websites can detect whether you are using a private window or not.
This is fine for most websites, but I would be cautious about using them with bookmakers, as it might make them suspicious about your intentions and they could monitor you activity more frequently.
Be careful, bookmakers can now detect if you are using a Private Incognito Window.
The reason for including this is that it gives you "options" whether to include this or not – ultimately it's your decision.
Final Thoughts
Just to be clear, there is no clear evidence that bookmakers within the same holdings company use "group cookies" to share data between companies. I'm no expert in web development nor litigation as to whether this is possible.
Whilst I would prefer to provide as little information as possible to bookmakers, I generally do not worry about clearing cookies.
Chances are that you're more likely to alert bookmakers to your account if they see you wiping your cookies or detecting a private incognito window every time you access the site.
So if your a frequent user of just one bookmaker I would advise you leave your cookies alone.